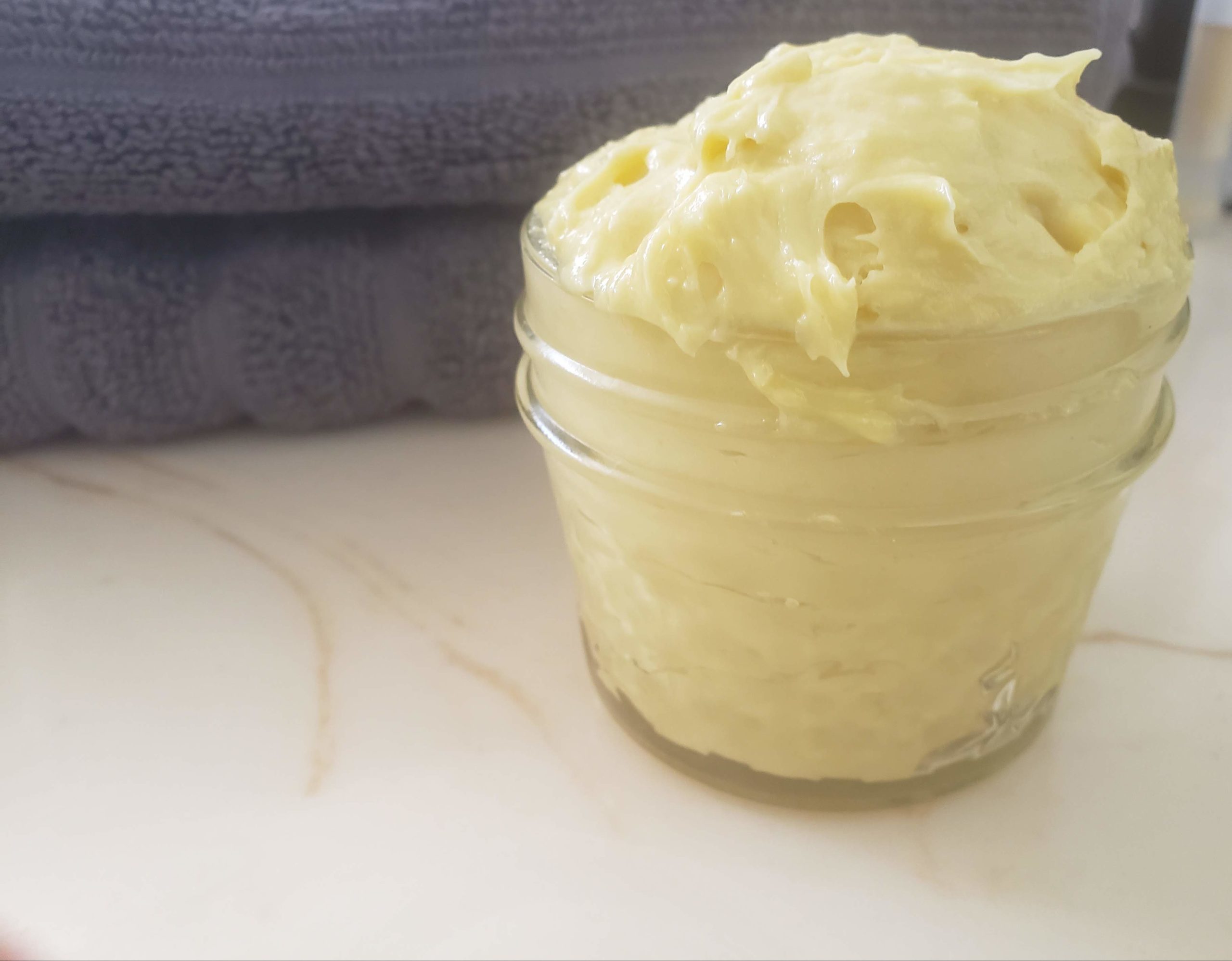 Raise your hand if you are plagued with dry, ashy skin. My skin always needs some tender loving care, namely a good skincare routine. This recipe for homemade olive oil body cream is heavenly, easy to make, and smells divine with essential oils!
I recently got into experimenting with DIY body butter as I love making clean beauty products at home. Things don't always go well at first, though. My first batch of moisturizing body cream turned out too stiff. The cream whipped up, but it wasn't as fluffy as I thought it would be.
I still used it all. After all, I'm not going to waste these ingredients, making my skin very soft!
This recipe was my next attempt, and it turned out amazing. This homemade body cream is light, and the blend of essential oils (Frankincense, Palmarosa, and Ylang Ylang) adds a nice floral touch.
The body cream also melts into your skin and doesn't leave a greasy feeling as other oil-based butters tend to do.
Let's get started!
This post contains affiliate links. If you use these links to buy something I may earn a commission. Thanks!
Why Make a Homemade Body Cream?
Our skin is our largest organ, and it is important to treat it right. It's are the biggest defense against the outside elements, after all. A lot of store-bought body creams and butter have questionable ingredients and chemical preservatives.
With a DIY body cream, you control the ingredients. You can customize it for your specific skin concerns. Plus, it's fun to use the skincare products you made yourself!
Homemade body cream also is cost-effective. After the initial investment in the oils and butters, you'll only use a little bit for each jar, so over time, you'll save quite a bit of money. And who doesn't like to save money?
Benefits of Olive Oil Body Cream
This body cream is made with nontoxic ingredients that are highly moisturizing. Take a look at these powerhouse ingredients.
Beeswax:
Beeswax is a natural wax produced by honey bees. It is edible and non-toxic, thus making it a great ingredient for skincare and clean beauty products.
This wax is great at creating a protective layer and trapping moisture as it's a humectant. This combination makes beeswax a perfect ingredient in lip balm recipes.
Shea butter:
Shea butter is a fat derived from nuts. It comes from the African Shea tree. This butter is a very popular ingredient in body butters as it's incredibly nourishing.
It is very thick and can be greasy if used on its own. When combined with other butters and oils, it provides incredible moisturizing properties. Shea butter is also edible and non-toxic.
And, even though this butter comes from a nut, it has a low chance of triggering nut allergies.
Coconut Oil:
Coconut oil is one of the most popular ingredients in DIY beauty recipes. This oil provides so many great benefits for our skin. It protects skin from environmental damage, hydrates, and can minimize fine lines and wrinkles.
Also, because it absorbs easily, it won't leave a greasy feeling on your skin. Coconut oil does have a high comedogenic rating (4). I use fractionated coconut oil which has a comedogenic rating of 2.
Sweet Almond Oil:
Sweet almond oil is such a powerhouse. It not only is great at moisturizing, but it also can lighten dark spots. Over time, our lips can lose their vibrant pink color, and this oil helps even the tone.
Vitamin E Oil:
Vitamin E is a popular anti-aging gold mine. It's no wonder it's used in many skincare products. This oil is thicker than others, and you only need a little bit to get the job done. Vitamin E oil is perfect for dry and chapped lips as it encourages cell turnover and leads to the skin regenerating faster.
Frankincense:
Known as the king of oils for its vast benefits, Frankincense essential oil has been used for centuries. It's even biblical! Frankincense is an aromatic resin that comes from the tree Boswellia. This liquid gold can improve skin tone and elasticity which is great if you're looking for antiaging elements.
Palmarosa:
Palmarosa essential oil comes from a grass native to India and Indochina. This light, floral oil can stimulate and rejuvenate the skin to look healthy and toned. It is also very moisturizing.
Ylang Ylang:
Ylang Ylang comes from the Cananga tree, which is native throughout South Asia, such as India, Malaysia, and the Philippines. This lovely oil has a scent that can lift your mood and calm anxiety—the perfect combo for a morning or night cream.
How to Make Homemade Olive Oil Body Cream
Ingredients
1/4 c Olive Oil
4 tbsp Shea Butter
1 tbsp Coconut Oil
1 tsp Sweet Almond Oil
1 tsp Vitamin E oil
2 tbsp + 1 tsp Beeswax Pellets
15-20 drops essential oil (I used Frankincense, Palmarosa, Ylang Ylang)
Mason Jar or Small Container
Notes:
This recipe fills a small 2 oz container.
Directions:
In a double boiler, melt shea butter, beeswax pellets, and oils (except essential oils if using) over low heat.
Remove from heat and add essential oils.
Chill in the fridge from 45 minutes to 1 hour.
Transfer mixture to a mixer. On the high setting, whip until smooth.
Transfer to a mason jar or small container.
How to Use Your Whipped Body Butter
This nourishing homemade olive oil body cream is perfect to use right after a shower. Tap away excess water with a towel and apply your body cream. A little goes a long way, so you won't have to lather it on. Also, since this is an oil-based cream, let it absorb before putting it on. I usually put a robe on while I"m getting ready, and I'm ready to put on clothes within 5-10 minutes. The cream does absorb and won't leave a greasy feeling. However, keep in mind it is an oil-based cream.
This homemade cream is also perfect to put on at night before bed. I like to put it on twice a day for extra moisturizing properties. I always wake up with super soft skin! And, with regular use, your skin won't be dry and ashy anymore.
Storing Your Homemade Body Cream
Since this cream is free of preservatives, use it regularly. For me, a 2 oz container lasts about 3-4 weeks. I love this aspect as I can whip up a batch every month and change essential oils as I like. I love to experiment with scents depending on the seasons.
The vitamin E oil in this cream will help prevent mold. Try to avoid contamination by keeping cream away from water. You can store the cream in the bathroom. I keep mine right on the countertop, so it's ready for use every day!
I hope you enjoy this recipe for homemade olive oil body cream! If you make it, please comment below and share any photos on social media – @by.bindi (Instagram).
Want more DIY recipes? Try this Lavender Vanilla Lip Balm Recipe that is completely non-toxic and nourishing.