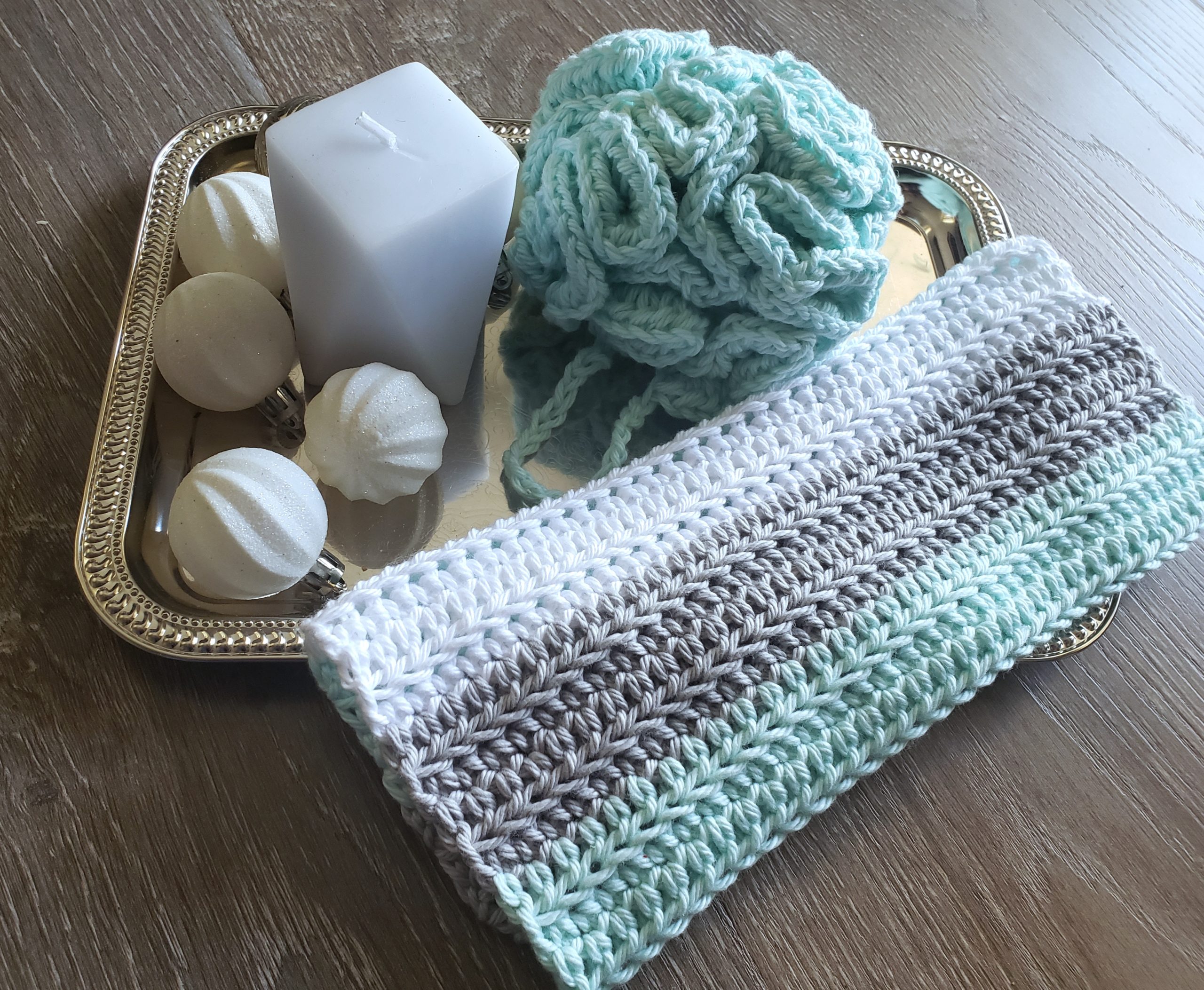 I absolutely love crocheting bath and spa items. And, adding fun colors to these projects is such a joy! This striped crochet washcloth pattern features a modern minimalist look. They are easy to make and great for beginners and advanced crocheters.
This crochet pattern comes together very fast. You can whip these babies up in a couple of hours, making these washcloths great for gifting or selling online. This washcloth is perfect for self-care time as it's super soft. Made from 100% cotton, it is great for sensitive skin.
I wanted to create a washcloth that had an elegant look without being too much work. I love when projects come together fast and I can get it done while binging my Netflix shows. (Made this one while catching up on Manifest!)
This striped crochet washcloth features 3 colors and 2 stitches: single crochet (sc) and half double crochet (hdc). Stitches crocheted in the back loops create the lovely texture in this washcloth.
You are welcome to sell any items you make from this pattern and I always appreciate pattern credit. You are not allowed to sell this pattern as your own.
Let's get started!
This post contains affiliate links. If you use these links to buy something I may earn a commission. Thanks!
Striped Crochet Washcloth Pattern
Supplies List:
100% Cotton Yarn (I used white, mint, and dove)
Needles to weave in ends
Stitches:
Single crochet (sc): Insert hook into stitch, yarn over, and pull through stitch (2 loops on hook). Yarn over and pull through both loops.
Half double crochet (hdc): Yarn over, insert hook into stitch, yarn over, pull through 1 loop (3 loops on hook). Yarn over and pull through all loops.
Pattern Notes:
chain 1 at the beginning of each row does not count as a stitch. Start in the first stitch.
Weave in ends as you change colors. This will make it easy for you so you don't have to weave everything all at once when you finish.
Directions:
Foundation: Chain 34 (Dove yarn)
Row 1: Hdc in 2nd from hook. Hdc in remaining stitches. Chain 1 and turn. (33 stitches)
Row 2: Sc in the back loop of the first stitch. Sc in the back loop until 2nd to the last stitch. Sc in both loops in the last stitch.
Row 3-4: Repeat row 1 and 2
Change Color – Mint
Row 5-8: Repeat row 1-4
Change Color – White
Row 9-12: Repeat row 1-4
Row 13-24: Repeat rows 1-12
Fasten off and weave in ends.
Did you make this pattern? Comment below! Tag @by.bindi on IG. I'd love to see your creations.
Want more free crochet patterns? Try these crochet face scrubbies or single crochet washcloth.