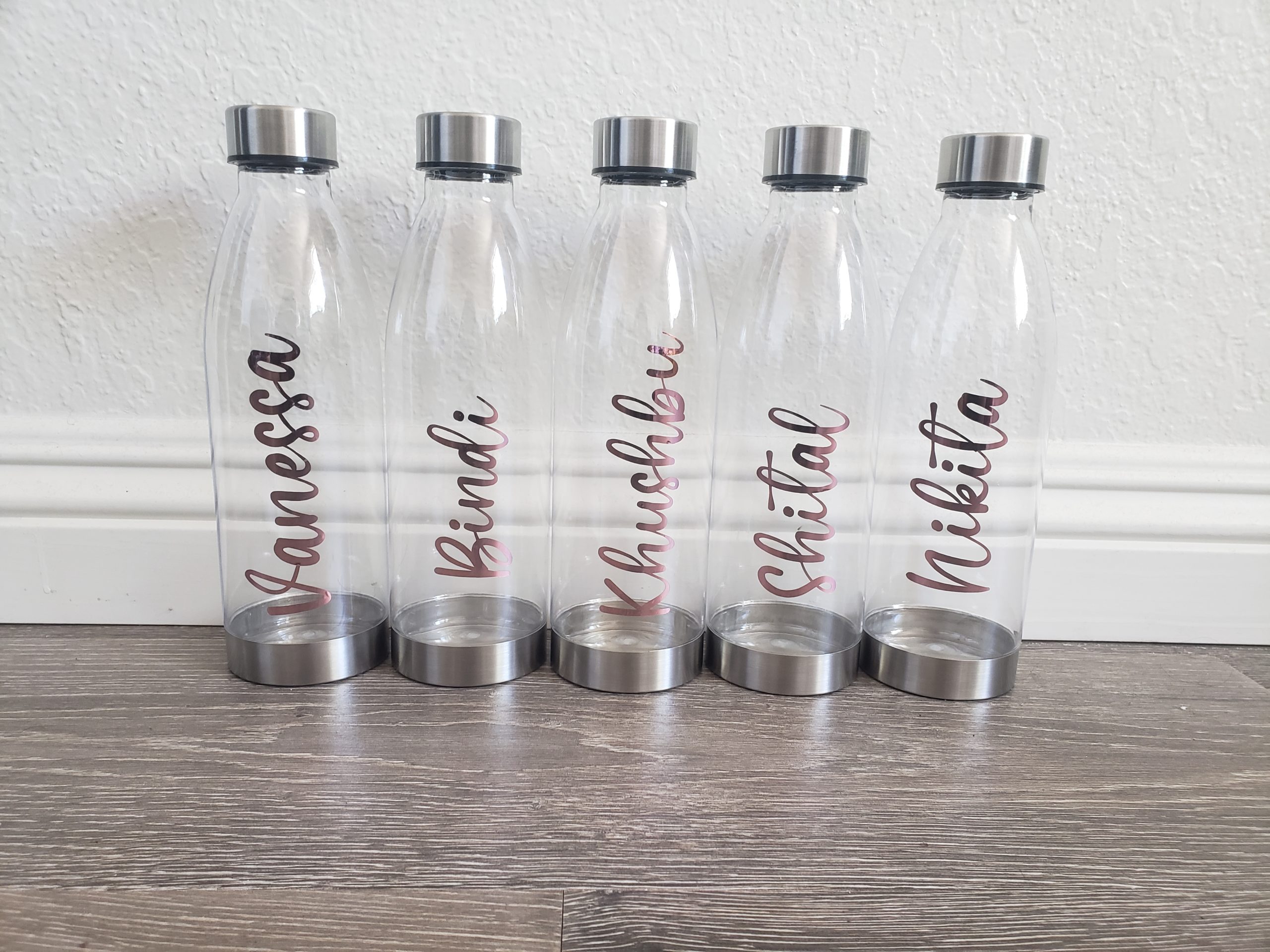 Have you seen all those cute personalized bachelorette water bottles on Pinterest and Etsy? They are so adorable! They also can be pretty pricey. If you're on a budget for your wedding and like to DIY items, this easy Cricut tutorial is for you! You'll learn how to make vinyl decals, transfer them and create super adorable bottles and tumblers for your bach!
I am planning my sister's bachelorette, and I wanted to create adorable water bottles that we can use by the pool and such. I love to DIY my projects and thought; let's try making it myself. I'm so glad I did because the result was a fraction of the cost, and I didn't sacrifice quality at all! Each bottle comes out to less than $3.00 each.
All the other bridesmaids loved the bottles too.
This post contains affiliate links. If you use these links to buy something I may earn a commission. Thanks!
Easy Personalized Bachelorette Water Bottles (Tutorial)
Materials:
Permanent Vinyl ( I used this Rose Gold Vinyl)*
Water Bottle** (I chose clear for my project)
Notes:
*This vinyl comes with a protective clear sheet. Remove this before you place the vinyl on the circuit mat.
**This tutorial works with water bottles and tumblers. If you're using a different bottle than the one I used, you can use a measuring tape to figure out your decal size.
Instructions
There are 4 steps to making your personalized bachelorette water bottles.
Create your text/cut file in Cricut Design Space.
Cut your vinyl decal with Cricut
Apply transfer tape to your decal
Apply decal to your water bottle.
Here are detailed instructions for each step.
How to Make Vinyl Decals with Cricut
For my bottles, I decided to use Metallic Rose Gold Vinyl. I absolutely love how shiny and glossy this vinyl is, and it comes out so pretty and elegant. It's gorgeous, and I can't stop looking at it!
To make your personalized bachelorette bottles, you'll start by making your decal with your Cricut.
Choosing a Decal Size
There are two ways to make decals:
Use the same width for your size.
Use the same font.
When you use the same width, longer names will appear smaller and shorter names will be bigger. With this option, decals will have different heights.
With option #2, your decals will be cohesive. For my project, I decided to go with option 2 because I am placing my decals vertically and wanted the same height for them.
Instructions
Open up Cricut Design Space. Choose a new project.
Select Text from the panel on the left.
Type your desired name into the text box. For this example, we are using "Vanessa. "
Change your font to 72 pt and Christmas Farmhouse.

Christmas Farmhouse is a licensed font. I got mine from Creative Fabrica membership. Creative Fabrica is a wonderful website to get fonts. If you don't want to pay for the membership, you can look for a font that is available for personal use or use a font that is already in your system.

Highlight and Ungroup your text (This will let you move each letter around).
Move the letters to attach them so that the name is cohesive. You can skip this step if you are okay with the spaces between the letters. I wanted my writing to be script.
Select your text and weld (bottom right-hand corner). This puts your text back together as one piece.
Change the color to match the vinyl color. For this project, I chose a rose gold color.
Select Make it from the upper left-hand corner.
Change the size to match your vinyl. I used 12 x 12. Once the proper size is selected, hit continue from the bottom left corner.
Change the dial on your Cricut to Vinyl.
Remove clear protective covering from your vinyl—place vinyl on a light grip mat.
Load your light grip mat into the Cricut by aligning your mat and hitting the arrow button.
Select Make It on your Computer and the flashing C on your Cricut.
At this point, your Cricut will cut the name. When finished, unload by hitting the arrow button.
How to Weed Your Vinyl Decal
Using your weeder, carefully lift the edges of the vinyl up. Use the weeder to help peel away the excess material.
How to Transfer Your Decals
Now that you have your decal weeded, you'll prep it for transfer to the water bottles. Cut the same size transfer tape as your decal. Carefully remove the carrier paper backing from the clear transfer tape. Take the transfer tape and place it directly on top of your decal. You can now move onto applying your personalized decal to the water bottle.
Vinyl Application Instructions:
Clean the

application

surface area with alcohol or soap & water. Dry thoroughly.

Using a squeegee/scraper or credit card, press firmly on the back of the decal to ensure that the decal sticks to the application

transfer paper (clear tape).

Peel the paper backing away from the decal very slowly. If the decal is still on the carrier paper, use the credit card again to firmly rub until the decal lifts on to transfer the paper completely. Go slow and press firmly from all directions.

Apply

decal to cleaned and dry area, pressing firmly using squeegee or credit card to adhere decal to application surface. Be sure to go slowly to avoid any bubbles. It's best to start pressing from the center outward.
Notes:
This vinyl is permanent.

Handwash surface only. Decals are NOT microwave or dishwasher safe.
Tips and Tricks
How to Avoid Air Bubbles On Your Vinyl
Sometimes you will see air bubbles pop up when you transfer your vinyl. Here are ways to get a smooth transfer.
I hope you enjoyed this tutorial for personalized bachelorette water bottles tutorial. If you make these bottles, I'd love to see your creations. Tag me on Instagram @by.bindi.
Want more Cricut tutorials for bachelorette favors? Try making these confetti hearts to add to your favor bags or bridesmaid proposal boxes. Subscribe to my weekly newsletter to stay updated on the latest blog posts.
Looking for cute ready-made wedding favors?